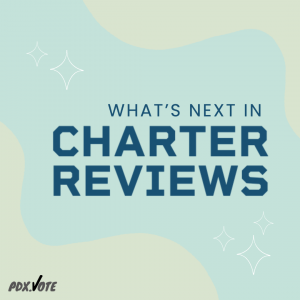 The City of Portland convened a charter review commission to update the city charter in 2020. The charter is the document empowers city officials to do their work and outlines what that work should be.
On June 14, the charter review commission voted to send a single ballot measure to voters that includes three major changes to local government:
Expand the Portland City Council to 12 members
Implement ranked choice voting
Eliminate city councilors' direct control of city bureaus
Seventeen commissioners voted in favor of the package of three amendments, eliminating any opportunity for current city commissioners to modify proposals before giving voters a say. That's been an issue in past charter reform efforts. Three members of the review commission didn't support the package: Vadim Mozyrsky, David Chen, and David Knowles. Mozyrsky supported sending only two amendments to the ballot.
The proposed amendments will go on the ballot for the general election in November. You'll find a breakdown of the charter changes below, as well details on what happens next. There's also an update on the Multnomah County charter review process.
Proposed amendments from the Portland City Charter Review Commission
Expand the Portland City Council to 12 members
In addition to more than doubling the size of Portland's city council, the measure will also establish four geographic districts. Three council members will represent each district. Electing a 12-member city council will likely result in at least four members selected by voters of color, according to modeling conducted last year. When multi-member districts elect leaders proportionally, more groups can be represented in a single district. This system is also known as proportional representation.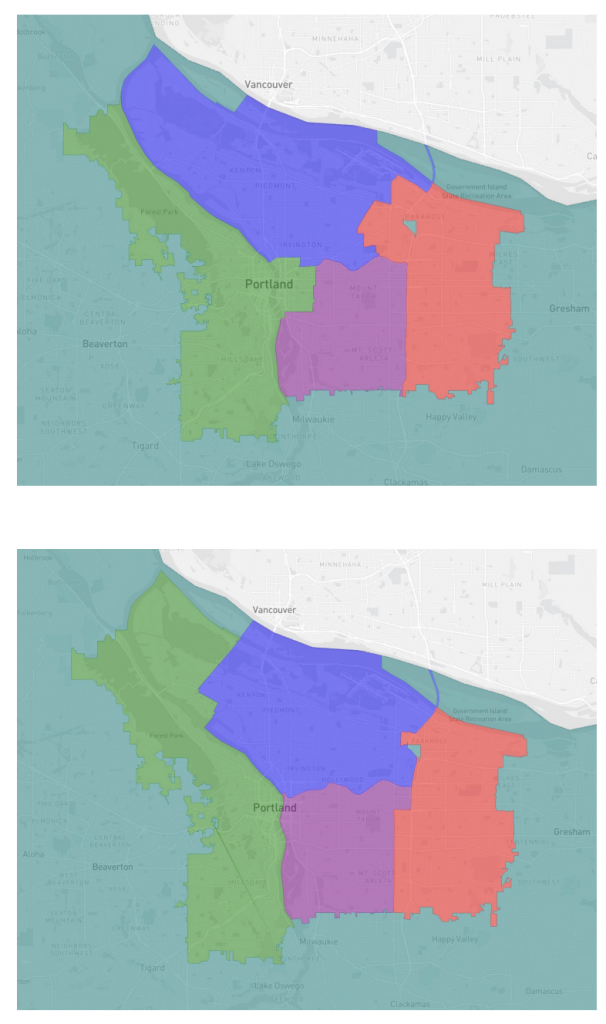 The charter review commission has described a process to create these districts: a planning commission would be formed in early 2023, gather information (including from the community), and develop a district plan that would hopefully be adopted in late 2023. That timeline is tight but necessary to implement districts before the 2024 election cycle.
One of the critiques from charter review commissioners who voted no was that no major U.S. city has adopted multi-member districts. They described the approach as experimental and untested. Those statements are misleading. Proportional representation systems are used in more than 85 other countries. Tasmania held the first election under such a system in 1896. John Adams even suggested that the U.S. use proportionality to elect leaders in 1776.
Expanding the Portland City Council to 12 members will still leave Portland with a smaller city council when compared to international numbers. Dublin, Ireland, for instance, has 63 city councilors (Dublin's metro population is similar to Portland's). Each of those 63 councilors represents roughly 8,800 residents. Right now, each of Portland's five commissioners represents more than 130,000 residents. Even if the ballot measure passes and we get our expanded city council, each of the 12 councilors will be responsible for more than 50,000 residents. Furthermore, Portland actually had 15 city councilors before the switch to commissions in 1913. The expansion is a step in the right direction, but I'm disappointed the charter review commission didn't enlarge the council to at least match past levels.
Implement ranked choice voting for city elections
Currently, when we get our ballots, we select just one candidate. If our preferred candidate loses, we have to wait to the next election cycle to get a chance at representation. However, a move to ranked choice voting will let us all have a better chance at electing a candidate who we think will do a good job. Assuming the proposal becomes law, our votes will still matter if our first choice loses. If, for instance, we had ranked choice voting in place during the last mayoral election, Portland would have likely elected someone other than Ted Wheeler. Well over 50% of voters chose someone else on their ballots, after all.
One of the benefits of switching to ranked choice voting is that we'll eliminate primary elections for city offices. More voters tend to mail in their ballots in a general election than in a primary, but most city races have been decided during the primary. Primary voters also tend to be Whiter and older, skewing outcomes in their favor. Getting rid of primaries means the resulting elections will be more equitable.
Elections will continue to be staggered. At the 2024 general election, we can expect all positions to be on the ballot in order to transition to the larger council. The mayor and all councilors for Districts 1 and 2 will run for four-year terms, while the auditor and all councilors for Districts 3 and 4 will run for two-year terms. At the 2026 general election, the auditor and all councilors for Districts 3 and 4 will run for four-year terms. City officials elected this year — City Auditor-Elect Simone Rede, City Commissioner Dan Ryan, and the winner of the run off between City Commissioner Jo Ann Hardesty and Rene Gonzalez — will serve only two years, rather than full four-year terms.
Eliminate city councilors' direct control of city bureaus
Portland's commission-based form of government is a relic. Out of the 100 largest cities in the U.S, only Portland still uses commissions.
If approved in November, the ballot measure will separate out policy setting and administrative responsibilities. City councilors will still set policies and agendas, as well as approving budgets, but they will no longer be directly responsible for managing bureaus. Instead, the mayor and a professional city administrator will handle day-to-day operations. The mayor and city council will appoint the city administrator jointly, who will then appoint directors for individual bureaus. The mayor will no longer vote as part of the city council, except to break ties.
All of this will require rejiggering the order of succession for the city's elected leadership. It will also impact the salary setting process for elected officials. A proposed salary commission is expected to be appointed in 2023 to review current salaries. The individual costs of maintaining an elected leader will likely decrease because they won't need the staff to juggle multiple bureaus, even though there's a greater number of officials needing resources. Council representatives serving the same district will likely be able to share some staff.
Keep your eyes on the calendar
The next steps in the process are mostly administrative:
The City Attorney will draft a ballot title and explanatory statement for the proposed amendments by July 11
Once those materials are available, anyone with concerns about the proposed language have seven business days to file challenges
If there are challenges, those must be addressed before city elections officials file final paperwork with county elections officials for the general election
County elections officials in Clackamas, Multnomah, and Washington Counties will then put the measure on local ballots
Of course, for these proposals to actually become reality, at least 50% of Portland voters need to support them in November. Polling data collected in March indicated that:
68% of likely voters support some sort of ranked-choice voting
73% of likely voters support multi-member districts
63% of likely voters support moving to a form of government with a city administrator overseen by the city council
There's no guarantee what will actually happen during the election. However, passing ballot measures reforming the City of Portland's government and voting process seems doable. There have been eight failed attempts to change Portland's system of government, though, so don't consider these reforms a done deal.
We'll likely see serious campaigning from both opponents and supporters of these reforms. Portland City Commissioner Mingus Mapps set up a PAC focused on charter reform last fall to raise funds for the campaign. At the time, Mapps told The Oregonian that he would support basically any proposal to remake the city government. However, in an April interview with Rose City Reform, Mapps expressed concerns about ranked choice voting and multi-member districts. Given the number of contributors to Mapps' PAC who have benefited from Portland's broken governance, we'll have to wait and see what campaign efforts the PAC supports.
Keep an eye on Portland's current leadership as these proposals move towards the election and potential implementation. There will likely be efforts to complete or start projects under the existing system by people who expect to lose power once changes take effect. We already have a mayor willing to push the boundaries of his power and the situation could escalate.
Assuming the proposed charter amendments pass, the process of changing these systems is estimated to cost between $4.6M to $7.9M per year (between 0.7% and 1.3% of the 2022-2023 city budget). They're expected to be fully implemented during 2023 and candidates elected under the new system will take office for the first time in January 2025. Much of that budget and time is earmarked for community outreach and voter education to prepare Portland residents for these new systems. Of course, the City of Portland will also need to make offices and other resources available for eight new elected leaders as well.
What's next for the Portland charter review commission?
Next, the Portland City Charter Review Commission will launch Phase II of the current review cycle. Any recommended changes to the charter in Phase II would go to voters some time in 2023. The charter review commission has a meeting scheduled for June 30 at 6:00 p.m, at which commissioners will discuss topics for Phase II. There is a sign-up form for giving public testimony.
Topics that have already been suggested for Phase II include:
Checking in on the Multnomah County Charter review process
Multnomah County has a charter that establishes its powers, just like the City of Portland. That charter is also currently under review, with the goal of sending any amendments to Multnomah County voters on the general ballot.
Changes under review include:
We can expect some announcements around any potential amendments to the Multnomah County Charter in the next six weeks. The charter review committee must submit its final report, including ballot materials for proposed changes, by August 4 (95 days before the election.) That ballot material must be approved by the County Attorney's Office prior to the report's submission. Multnomah County commissioners will have until September 8 to vote on sending each amendment to voters — that's the deadline by which the county elections office needs to know about any measures being referred to the ballot.
The committee has just three meetings left, during which both verbal comments and written comments will be accepted. To testify at a meeting, you'll need to sign up by 4:00 p.m. the proceeding day. Written comments are due by 12:00 p.m. five days prior to the meeting in question. The upcoming meetings are:
Tuesday, June 28 at 5:30 p.m. (Sign up to testify by Monday, June 27 at 4:00 p.m. and submit written comments by Thursday, June 23 at 12:00 p.m.)
Tuesday, July 5 at 6:15 p.m. (Sign up to testify by Monday, July 4 at 4:00 p.m. and submit written comments by Thursday, June 30 at 12:00 p.m.)
Wednesday, July 20 at 5:30 p.m. (Sign up to testify by Tuesday, July 19 at 4:00 p.m. and submit written comments by Tuesday, July 19 at 12:00 p.m.)
The Multnomah County Charter Review Committee has also shared a community survey, which will remain open through Friday, June 24. The survey is 15 questions and can be completed quickly.