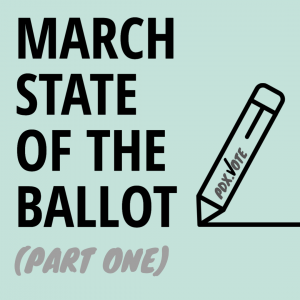 We passed two major deadlines for the May primary last week: March 8 was the last day candidates could file to run in the primary. March 11 was the last day candidates could withdraw from the primary. With those two dates behind us, we now know who is actually on the ballot and which races will get bumped to the November election. There may be some legal challenges to work through, which I'll touch on below that could alter ballots a bit. But most changes moving forward will be informal adjustments like candidates ending their campaigns and throwing their support to folks staying in the race or write-in candidates deciding to start campaigns based on current events.
I'm still following the roughly 95 races I mentioned in February. However, with campaigning heating up, I'll probably have to narrow my focus because of the increase in information as we get closer to the election — candidates and donors will be much more active for the next two months.
Understanding who will be on the primary ballot isn't as straight-forward as just reading off the list of registered candidates. Oregon holds closed primaries, which means that only voters registered as either Democrats or Republicans will see partisan races on their primary ballot, and even then, they'll only see candidates belonging to their own party.
Nonpartisan races are more complicated. Provided there are more than two candidates registered, nonpartisan races appear on the primary ballot. If a candidate receives more than 50 percent of votes, they are elected to the office. If not, the two candidates receiving the most votes face off in the November election. But if only one or two candidates register for the primary, they're automatically nominated to the general election and don't appear on the primary ballot. Certain types of races have additional constraints, such as judicial races. Usually, all judicial elections in Oregon require a primary, but if a judicial position becomes vacant off schedule, the primary may be skipped. Individual jurisdictions can also tweak their own election laws.
A couple of quick notes:
Judicial races
In Oregon, judicial races tend to be simple: They're often uncontested with incumbent judges effectively getting a rubber stamp to continue their work. They're nonpartisan elections, so if one candidate receives more than 50% of votes during the primary, that candidate is elected. Incumbent candidates rarely even set up websites or otherwise actively campaign. These elections are more about maintaining the status quo than anything else.
This year, only one judicial race is contested. Judge Darleen Ortega is running for reelection to the Oregon Court of Appeals. Former Marion County Circuit Court Judge Vance Day is running against Ortega. Ortega is best known as the first woman of color to serve as an Oregon appellate judge and for writing film reviews. Day is best known because the Oregon Supreme Court suspended him from judicial duties for three years in connection with his refusal to perform marriages for queer couples and for hanging a portrait of Nazi leader Adolf Hitler in the Marion County Courthouse.
Candidates in uncontested judicial races that I'm following include:
Oregon Supreme Court: Roger DeHoog
Oregon Court of Appeals: Scott Shorr, Ramón Pagán, Kristina Hellman, Anna Joyce
Oregon Circuit Court, 4th District (Multnomah County): Leslie Bottomly, Celia Howes, David Rees, Kelly Skye, Eric Bloch, Eric Dahlin, Maurisa Gates, Patrick W. Henry, Jenna Plank
Oregon Circuit Court, 5th District (Clackamas County): Cody Weston, Katherine Weber, Thomas Rastetter
Oregon Circuit Court, 20th District (Washington County): Ted Sims, Eric Butterfield, Michele Rini, Miranda Summer
Just a note: there are more judicial candidates named Eric than judicial candidates who are women of color this year.
Hellman, Joyce, Howes, Plank, and Rini have all been automatically nominated to the general election due to their recent appointments to the bench. There have been several key retirements on state-level courts (including Oregon Supreme Court Judge Lynn Natakmoto's), which caused ripples of appointments as several judges effectively moved up the ladder to fill vacancies. As of today, there are just 60 days left until the primary. If Governor Kate Brown appoints any judges in the next 60 days, they will not be on the ballot in May — instead they'll get pushed out to November.
Portland races
The City of Portland has three races with a total of 22 registered candidates. Two of the races, both for seats on the city council, have drawn the lion's share of candidates. Only two candidates are running for the City Auditor's seat: Simone Rede and Brian Setzler. While both Rede and Setzler could be described as progressive candidates, local activists have raised concerns about Setzler's goals, especially due to now-deleted social media posts that seem to advocate for eugenics.
Twenty candidates are running for city commissioner, split across Position 2 (currently held by Commissioner Dan Ryan) and Position 3 (currently held by Commissioner Jo Ann Hardesty). Exactly how many of those candidates are actually serious contenders is up for debate, but there are some names you should definitely know in each race.
Here are the highlights for Position 2:
Dan Ryan, the incumbent, took the seat in an August 2020 special election to finish out Commissioner Nick Fish' term. He's currently responsible for the Portland Housing Bureau, Joint Office of Homeless Services, Bureau of Development Services, and the Portland Children's Levy. Ryan has struggled with finding equitable solutions to housing issues, as well as with actually implementing his primary solution, safe rest villages.
A.J. McCreary is the executive director of Equitable Giving Circle, which does impressive work around feeding and housing Black and Indigenous Portland residents. McCreary has already gathered several key endorsements (Portland Association of Teachers, APANO, Sunrise Movement PDX, and more), which make her a leading candidate in this race.
McCreary and Ryan are the only candidates in this race who qualified for matching funds from the City of Portland. Two additional candidates have registered finance committees with the Oregon Secretary of State: Steven Cox and Sandeep Bali. Cox is arguably in third place in the race currently, as he has reported raising $3,000 in the form of a personal loan to his campaign. Bali has not reported any transactions at the time of writing this article.
While registered as candidates, Avraham Cox, Sophie Sumney-Koivisto, Renee Stephens, and Chris Brummer do not have campaign websites and have not registered finance committees with the Oregon Secretary of State. One additional candidate, Michael Simpson, has created a website, but some portions of the website seem incomplete.
And here are the highlights for Position 3:
This slate of candidates is the largest since 1970, if you ignore special elections when there may be three commissioner seats open at once. There were 21 candidates for commissioner seats in the 1970 election. In general, races with more candidates running for a particular seat are more expensive than races with a shorter list of options.
Ballot measures
Most of the ballot measures already making headlines won't actually be on the ballot until November. However, there are a handful of local measures that will be decided in the primary, including:
Check back next week for Part Two.