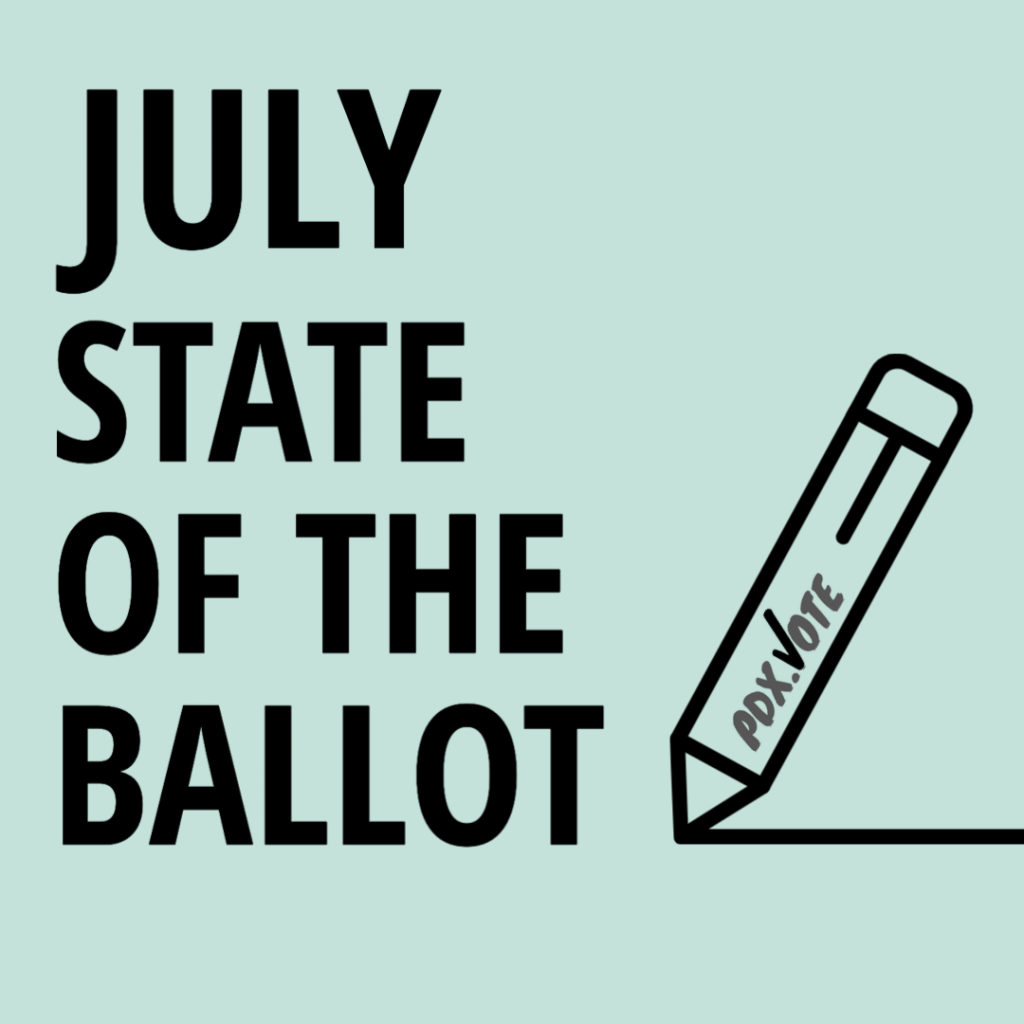 This month has been busy, politically speaking. Lift Every Voice Oregon collected enough signatures to put gun control on the November ballot, the Oregon Secretary of State ordered an extensive audit of Clackamas County's primary votes, and the U.S. Supreme Court handed down enough decisions to fill a book. It's a good time to check in on what the general election ballot is looking like for November.
I'll also be writing up the August ballot as that election gets closer for the Clackamas County voters who will have the option of participating. However, Multnomah and Washington County voters won't receive ballots for August.
Predictions and polling
We've reached a point in the election cycle where just about everyone has a prediction on how the votes will go, especially around gubernatorial and federal races. You can currently cherry-pick polls and historical data to forecast a win for just about any candidate you favor, because different polls and forecasts show different results:
Historically, the party of the current U.S. president loses seats in midterm elections. A variety of political experts are predicting that both the U.S. House of Representatives and the U.S. Senate will be under Republican control after the general election. While there's less of a clear correlation for local races, there are suggestions that Republicans could do well in Oregon elections in November.
To gain a majority in the Oregon State Senate, Republicans need to win 8 of 16 races. Three of the seats are currently held by Republicans and one is Johnson's former seat. And due to last year's redistricting, incumbents can't count on familiarity to hold on to their seats. That leaves only four seats Republicans need to pick up
Change ups in Senate District 11
Eric Swenson won the Democratic primary for Oregon Senate District 11, which includes Woodburn, Keizer, and north Salem (and happens to be one of the Republican-held seats mentioned above). However, Swenson decided to drop out of the race after the primary because campaigning convinced him that his current work as mayor of Woodburn is more important.
While a candidate dropping out after winning a primary is unusual, Swenson endorsed Teresa Alonso Leon for the seat, which complicated the situation further. Democratic precinct committee members are responsible for choosing replacement nominees in such situations. Both Anthony Rosilez and Rich Walsh, who ran against Swenson in the primary, announced interest.
Democratic precinct committee members held a vote at the end of June and 40 residents of Senate District 11 selected Walsh as their nominee. Walsh received 29 votes, Alonso Leon received 11, and Rosilez received 0. In the meanwhile, conspiracy theories have flourished, ranging from suggestions Swenson ran only as a placeholder candidate to an idea that Swenson's involvement in a police investigation starting last February prompted him to exit the race.
Taking sides on the city charter ballot measure
When the Portland City Charter review process started, it enjoyed widespread support from elected officials. Now that there's a ballot measure actually on the table, however, opposition to reform is lining up. This eighth attempt to make Portland's city government more functional will face at least the same levels of opposition as the last seven tries.
Despite supporting changes to the city charter earlier in the process, a variety of individuals and organizations are working hard to defeat the ballot measure.
Most of the critiques are focused around packaging multiple reforms together — several opponents have said that if the proposed changes were broken out into multiple ballot measures, they'd have fewer concerns. (The question of constitutionality was raised during planning and the Portland City Attorney's Office determined that the ballot language met legal requirements.) That sort of explanation seems disingenuous, however. PBA waited until the very end of the charter review process to express concerns, despite plans for a single ballot measure being publicly discussed since the beginning of the year. Mapps created his PAC to support charter reforms — just not these reforms, apparently.
And the idea that a mayor shouldn't be answerable to their colleagues is laughable to anyone not seeking to personally dictate the governance of an entire city on their own. Furthermore, Wheeler claimed in a July interview with Willamette Week, "I still don't even understand all the facets of this; I literally just heard the proposal yesterday." That's not a reassuring answer from a mayor on any topic, let alone a proposed ballot measure developed entirely in public meetings by a commission he helped appoint that he's received numerous reports on. In the meanwhile, Wheeler's use of emergency orders to circumvent the existing bureaucracy and city commissioners shows the lie in any claim that the City of Portland functions well under the current charter.
I'm not surprised that people with power under the current system are fighting to maintain that power. Both future mayors and city councilors will have significantly less individual power if the ballot measure passes, and every lobbyist in town will have to rethink their strategies.
Under the proposed changes, more Portland residents will be represented at City Hall and city work will be streamlined. To get those benefits, we need all the elements included in the ballot measure. As Charter Commissioner Candace Avalos told Rose City Reform, "For it to work as we intended, you've got to accept the whole vision. You can't piecemeal it…When you start to pull the package apart into an a la carte style of reform, it takes away from our deep equity and inclusion goals, as well as the functionality goals."
In an interview with The Portland Mercury, another member of the charter review commission pointed out that the PBA in particular is used to influencing city government decisions. That member, Robin Ye, went on to say, "I think they are experiencing what it feels like for the rest of the city and average, everyday Portlanders who don't know if their voice is gonna be heard the way they want it. If they've been used to privilege, then equality to them seems like a step down."
There are organizations supporting the change. Building Power for Communities of Color is creating a PAC expected to formally launch in August to promote the passage of the ballot measure. The League of Women Voters of Portland, Next Up, and Portland City Club have all voiced support for the ballot measure.