Union coalition moves towards strike against the City of Portland
Over one thousand city employees represented by the District Council of Trade Unions may strike later this month, as contract negotiations with the City of Portland have stalled. DCTU is a coalition of six unions — AFSCME Local 189, IBEW Local 48, Machinists Local 1005, Operating Engineers Local 701, Plumbers and Steamfitters Local 290, and Painters District Council 5 — which includes employees working at every bureau in the city. DCTU's last contract expired December 31, 2020, and the coalition has been negotiating with the city ever since. While the city is offering a cost-of-living increase of 1.6%, DCTU is asking for 5%, since real inflation is already passing 6%. DCTU president Rob Martineau told OPB, "We're not spoiling for a strike, but at some point we have to stand up for ourselves and our family…We are Portlanders. We work and live and volunteer and do all the things in the city we serve and we're unwilling to be displaced economically from Portland." DCTU's last strike was in 2001 and lasted 45 minutes.
DCTU may give notice of a strike as early as January 10, with union members going on strike ten days after giving notice. In the meanwhile, DCTU and city negotiators have two mediation sessions scheduled for today, January 5, and January 11. DCTU is also hosting a rally for city workers and supporters at Portland City Hall on January 8 at 2 p.m. Portland DSA is hosting a sign-making party for an hour before the rally, also at City Hall.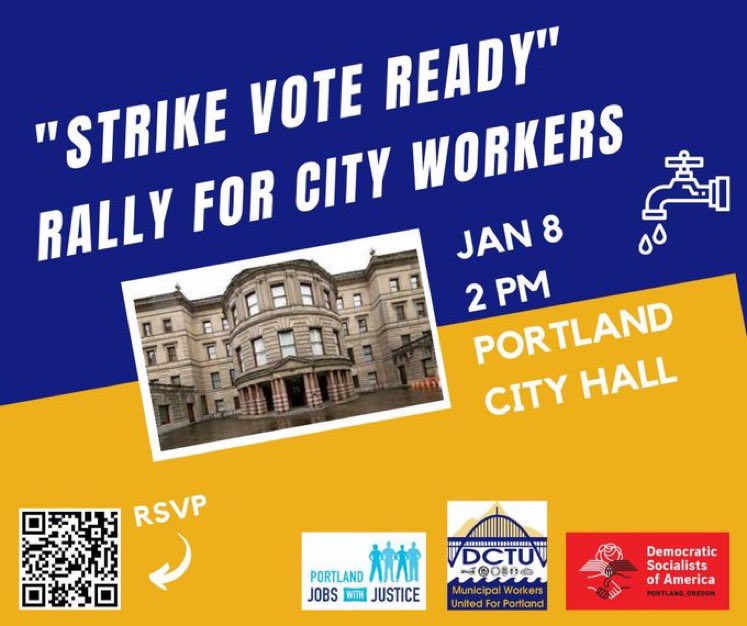 ---
Harriet Tubman Middle School move may build on legacy of forced displacement
The I-5 Rose Quarter Expansion Project is pushing forward and potential consequences keep rippling outward. Harriet Tubman Middle School, which already deals with extremely high levels of pollution due to its location just feet away from the highway, will likely need to move to both accommodate the expansion and protect students' health. The move will cost over $100 million (on top of the millions Portland Public Schools spent on the school's reopening in 2018. The big question, however, is where could Harriet Tubman move to that is safe, located in Historic Albina, and doesn't compound the harm done to Black Portland residents when Albina was initially gutted to build Interstate 5 in the first place?
PPS board members are looking at two options: buying a new site or relocating to an existing school (potentially displacing that school's community, as well). Parents are concerned that the elementary schools that feed into Harriet Tubman Middle School are at risk of displacement. They've advocated for and scheduled meetings with district officials at the four elementary schools in question (Dr. Martin Luther King Jr., Sabin, Boise-Eliot, and Irvington), three of which take place today and tomorrow. Parents are also asking for signatures on a letter calling on PPS to avoid dismantling any middle school communities and to find a safer location for Harriet Tubman Middle School. A decision is expected after PPS' request for funds for the relocation is heard during the state legislature's February session, though it's unclear if the state will consider funding relocation without a new location already selected.
---
The Oregon Supreme Court maintains only active voters can sign initiative petitions
In a decision released last week, the Oregon Supreme Court maintained the standing policy that only active voters are eligible to sign petitions for ballots initiatives and referendums. The standing policy is based by a 2016 decision from then-Oregon Secretary of State Jeanne Atkins to exclude signatures from inactive voters from tallies determining whether measures would be added to the ballot on Initiative Petition 50. The challenge was brought by Richard Whitehead on behalf of the Citizens in Charge Foundation, as well as Timothy Grant, an Oregon voter who was listed as inactive after joining his spouse on out-of-state military duty. State administrative rules say that a voter is considered inactive if they have not cast ballots for at least 10 years and county officials have notified that voter of their inactivity. Inactive voters can reactivate their registration by notifying their county elections office or their local DMV.