With this post, I'm officially back from my post-primary hiatus. I'll get into the results, as well as look at upcoming elections. I'll also be posting a separate update on some small changes to the website, now that PDX.Vote has been up for over six months!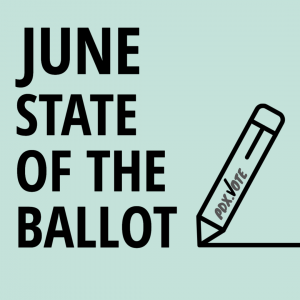 Primary results are finally in
We're pretty sure we know the results of Oregon's primary election, and it's only been three weeks since the election! A few small changes are still technically possible through the end of the audit and certification process on June 27. At this point, though, we're looking at margins small enough that media sources have declared winners for most races. While I'll get into the details of who is advancing to the general ballot below, you can review unofficial results of all races online.
Getting those results has been convoluted this year, due to a printing error on ballots for Clackamas County. Sherry Hall, Clackamas's County Clerk and chief election official, arguably aggravated the issue through poor planning and pushing back against other agencies offering support. To tally results, election workers had to hand copy and recount ballots. And since Clackamas County voters help decide everything from commissioners for the City of Portland to four separate representatives to the U.S. Congress, campaigns at every level had to wait on results to decide on their next steps. Clackamas County has also struggled to share information to the statewide results site, including mistakenly reporting changes to race outcomes.
As of June 2, Clackamas County officials have processed 113,641 of 116,045 ballots they've received. With just over 1,000 ballots to go, they've switched their main focus to reconciling and certifying totals. That's business as usual after an election. On the off chance that those last thousand ballots aren't counted by June 13, Oregon Secretary of State Shemia Fagan would take the matter to the courts to force/give permission for Clackamas County to continue counting every votes. Lawsuits are the Secretary of State's main method for enforcing decisions. There are also certain situations that trigger automatic recounts, like if two candidates wind up with totals within 0.2% of each other — which looks likely in the House District 38 Democratic primary between Daniel Nguyen and Neelam Gupta.
Results are due to the Secretary of State by June 13. The Secretary of State then has until June 23 to audit and certify the election results. The Clackamas County Clerk's office has issued updates saying that they expect to certify their election results by the June 13 deadline. Clackamas County's issues also open the results up to more challenges than usual. The deadline to contest the results is June 27. There's a separate deadline for complaints about election law violations during the primary, which is on August 15.
Of course, the effects of these blurred bar codes will keep rippling out long after the Secretary of State certifies the primary's results. The Oregon State Legislature will likely be looking at what happened. State Representative Janelle Bynum has already called for a legislative inquiry into Hall's actions to take place after votes are certified. Clackamas County commissioners will also likely reassess the value of an independently elected county clerk after this debacle. Neither of the other two largest counties in Oregon have independent clerks.
Hall is also up for reelection on the November ballot. She's managed to hold on to her seat through a long list of errors over the past twenty years. However, this year's race has already garnered more attention than in past elections. Many people (including members of the media and officials) have called for Hall's resignation. Several more are very carefully avoiding saying whether they think Hall should resign. Fagan, for instance, has repeated that her priority is getting election results and that Hall is the only official with the legal power to produce those results in multiple interviews. Once results are actually in Fagan's hands, she may have a different answer to questions about whether Hall should resign. There's also already a formal complaint over Hall's actions during the primary election on file — surprisingly, about allowing improper access to campaign observers, rather than about the drawn-out counting process.
Throughout the extended counting process, multiple people and organizations have suggested that Fagan, the Oregon Secretary of State, take over the counting process in Clackamas County. However, doing so would be a conflict of interest, given the Secretary of State's responsibility for auditing and certifying local elections. The office does have the power to ask local elections officials to set and hit benchmarks, which Fagan did. The Secretary of State's office has also had observers on site since Election Day.
Hall's blunders have created more room for conspiracy theories, as well as more organized efforts to undermine elections. As Fagan said in an interview with OPB, "You can't have weeks of negative headlines about an election without eroding trust…"
The August election
While the primary results tells us what will be on the ballot in November, there's actually another election between now and then. The State of Oregon reserves the fourth Tuesday in August (this year, August 23) for special elections.
Multnomah and Washington Counties don't have any races or issues scheduled for the August election, but Clackamas County will elect a new mayor for Oregon City and board members for the Oak Lodge Water Services Authority.
The deadline for filing for the August election is June 23, so it's possible other items may be added. It's unlikely, however, for major items to wind up on special election ballots without advance notice (aside from an elected official suddenly becoming unable to carry out their term more than 60 days out from the election).
The general election
What races are on the ballot?
The whole point of holding a primary is to select partisan candidates. Those partisan candidates will all move forward to the general election. A few races also have candidates affiliated with a third party or who are running unaffiliated, as well. Depending on where you live, some or all of the races below will be on your ballot.
Governor
U.S. Senator
U.S. Representative
State Senator
State Representative
There are also several non-partisan races that you'll see in November. In Oregon, many non-partisan elections in May serve as a sort of primary. If one candidate gets more than 50% of the vote, they win the race. But if no candidate convinces at least half of participating voters, the two candidates with the most votes move to a run off in the general election. This year, the races moving on include:
Commissioner of the Bureau of Labor and Industries
Portland City Commissioner, Position 3
Multnomah County Commission Chair
Clackamas County Commissioner, Position 2
Clackamas County Commissioner, Position 5
There are also a few other odds-and-ends races on the ballot that we'll talk about in the coming weeks. There's also a slew of ballot initiatives currently circulating petitions in the hopes of getting on the ballot.
Ballot initiative season
Governmental bodies can refer initiatives directly to the ballot. The rest of us need to get other voters to sign petitions to place initiatives on the ballot. Exactly how many signatures you need depends on what level of government you're hoping to change. In 2022, the necessary numbers include:
Getting enough signatures has proven harder since the beginning of the COVID-19 pandemic. Many people seem to have decided that the pandemic is over and will likely be out and about, able to chat with anyone with a clipboard. But those of us still exercising caution may need to put forth extra effort to sign petitions for initiatives we want to see on the ballot. All such signatures must be in by July 8 for verification. Keep your eyes open for upcoming posts on some of these initiatives in more depth.