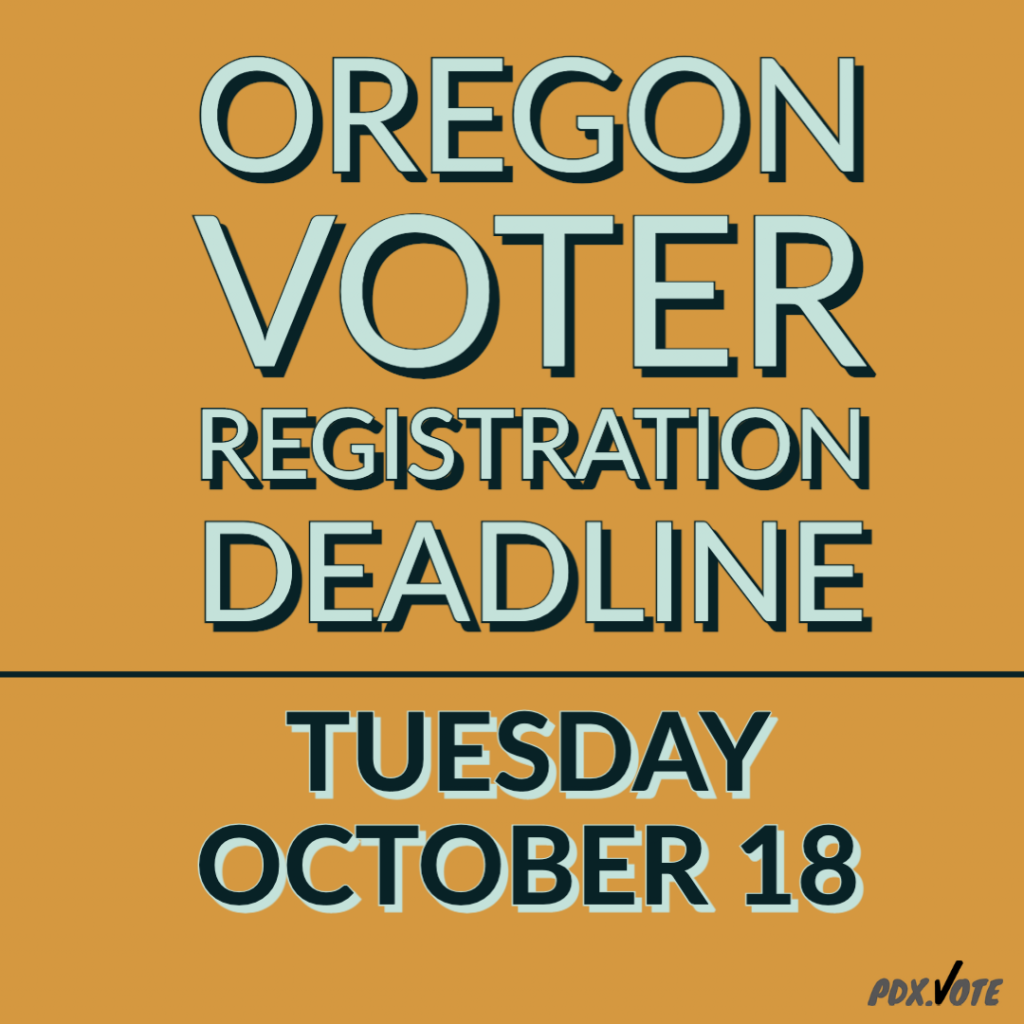 As of today, there's just sixty days until the general election ending November 8. If you're planning to vote, you'll want to double check your voter registration, ideally before the end of September.
The deadline to register to vote, change party affiliation, or to update your address is Tuesday, October 18. Technically, you're able to update your registration up until 8:00 p.m. on Election Day, but earlier is easier. If you're requesting a ballot from somewhere outside of Oregon, checking your information soon is even more important. Military and overseas ballots are mailed out starting Friday, September 23 and absentee ballots are mailed out starting Monday, September 26.
If you have an Oregon driver's license, you're likely registered already. The Oregon DMV automatically registers anyone applying for a driver's license, permit, or ID card to vote — which means that voter registration is easy for many state residents. But there are nuances even already-enrolled voters should know.
Checking your voter registration status
If you're pretty confident you're already registered, you'll need to check that you're registered through the Secretary of State's website. The site needs your first and last name, as well as your birthdate, to look up your registration. Assuming you're registered to vote, the website should provide your party affiliation and address. You'll be able to update all of your information through the website, including your name.
And yes, this means that if you have the name and birthdate of an Oregon voter, you can punch in their information and get their home address (as well as change their registration information). It's not a secure system. It's not really intended to be secure, though: Voter registrations are public information. In fact, you can buy the entire list of registered voters in the state from the Oregon Secretary of State's office for just $500.
One of the reasons you'll want to check even if you're confident you're registered is to make sure you're not listed as inactive. The website may also list a voter as "inactive," for reasons ranging from changing your address with the U.S. Post Office to being incarcerated. To return to active status, update your voter registration online or with your local county elections office.
If the Secretary of State's website can't find your registration, there are a few reasons:
The voter registration system refreshes data starting at 5:25 p.m. every day and can have errors during its refresh window. The maintenance window lasts roughly ten minutes. Searching again after 5:35 p.m. may return better results. Longer maintenance windows may also be scheduled between now and the voter registration deadline.
Your name may have changed since you registered to vote. If you may have registered under another name, check if your registration is still under any previous names.
Your name may have been incorrectly entered in the system. In that case, you'll want to contact your county election office to correct the error.
If you have completed the process to request your address not be included on voter rolls due to personal safety concerns, your registration details won't show up on the Secretary of State's website.
Otherwise, you may not be registered to vote in Oregon. You can fix that quickly if you're eligible to register to vote online.
Registering to vote in Oregon, including special circumstances
Voter registration qualifications in Oregon are straight-forward:
Voters must be residents of Oregon, determined by being able to receive mail in the state.
Voters must be U.S. citizens.
Voters must be at least 16 years of age to register. People under the age of 18 will not receive ballots for elections before their 18th birthday, but can still register.
There may be adjustments to that citizenship requirement in the future, as well: one of the ballot measures this fall is a proposed amendment to the Multnomah County Charter to expand voting rights. If the amendment passes, residents of Multnomah County who are not U.S. citizens will be able to vote on candidates for Multnomah County offices, like county commissioner or auditor.
For many prospective voters, registering to vote in Oregon can be as simple as filling out a form on the Secretary of State's website. You'll need to provide your Oregon driver's license, permit, or ID card number issued by the Oregon Driver and Motor Vehicle Services Division. The website is available in English, Spanish, Vietnamese, and three other languages. Avoid registering through other websites and platforms that offer to submit your registration for you — such systems are difficult to verify and may share your information in ways you can't control.
Registering without state-issued identification
But many people don't have state-issued drivers' licenses or identification cards. Not only do you have to present original or certified copies of your birth certificate or other identity documents, but you also have to present proof of your address and pay a minimum of $44.50. Lacking a state-issued form of identification doesn't officially prevent people from registering to vote in Oregon, but it does make the process harder.
You'll need to register by submitting a paper form to your county elections office or in person at your county elections office. That form, known as the SEL 500, can be submitted with your Social Security number or a document that shows both your legal name and your address (such as a utility bill or a government document).
During the Oregon legislative session in February, the legislature passed HB 4133. That bill will allow voters without a state-issued ID to register online by providing the last four digits of their Social Security number and an image of their signatures. However, that change has not yet been implemented.
Registering while traveling or without a fixed address
The Secretary of State's office provides options for voters who may not be physically present in Oregon during an election. People who are traveling temporarily or are students in another state must fill out an Oregon absentee ballot request, also known as a SEL 111 form. The SEL 111 is also used for voters who are displaced due to natural disasters. Oregon voters who are in the military or are temporarily living overseas must request their absentee ballots through the Federal Voting Assistance Program.
But what about folks without stable housing? You don't need to have a permanent address to vote. You can provide a 'residence' address, which can be any location where you can regularly be found, from a campsite to a service provider you rely on, and list your local county clerk's office as your mailing address. Then, when ballots are available, you can pick up your ballot at the elections office.