I'm currently elbow-deep in preparing a voter's guide for the upcoming election. I'm hoping to have that up soon, since ballots are already headed out for military and overseas voters.
In the meanwhile, though, I've updated two mini-zines I usually share during election season. I'm sharing them here in the hopes that you'll pass them on to your communities. They're both one-page zines. You can find instructions (including a video!) here on how to fold one-page zines.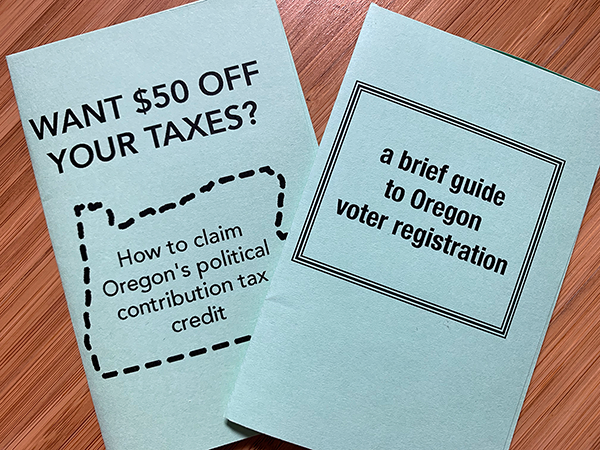 The first zine is about voter registration in Oregon: it's the short version of the longer article I shared recently. There are a lot of voter registration resources flying around right now, so why do you need another one? Well, most voter registration resources focus on getting their audiences to register online. That's not an option for a lot of prospective voters here in Oregon, so this zine covers what to do in that situation. It also discusses the risks of registering to vote (such as having your home address in the public record) and how to reduce those risks.
Download the Oregon voter registration zine here.
The second zine covers how to claim the Oregon political contribution tax credit. Plenty of campaigns are asking for donations right now and folks should know that their first $50 contribution is free — kinda. More accurately, the State of Oregon reimburses political donors with a tax discount. It's a bit complicated, so this zine walks readers through how to claim the tax deduction as well as which donations are eligible.
Download the Oregon political contribution tax credit zine here.