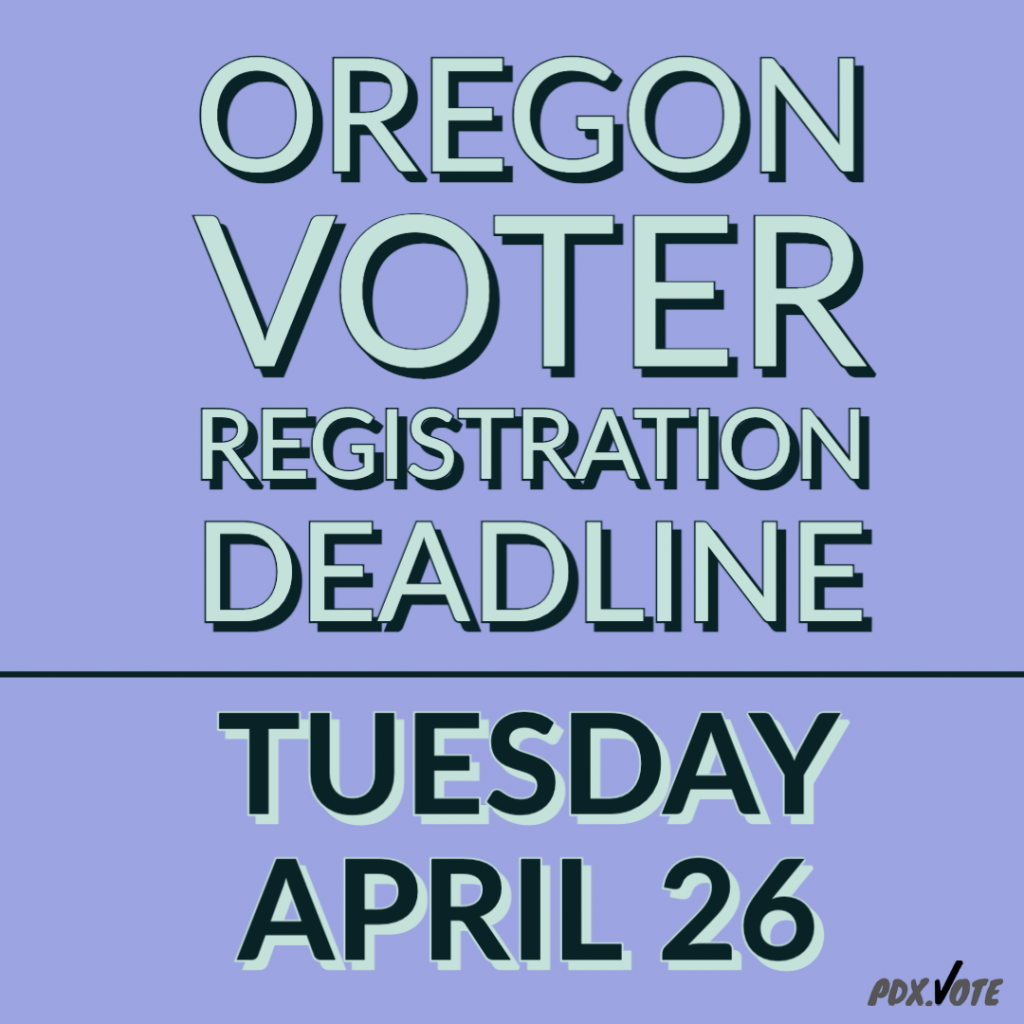 With the looming May primary a month away, you may want to double check your voter registration. To participate in the primary, Oregon voters must be registered at least 21 days before the election — this year's deadline is April 26. That's also the deadline for anyone who wishes to change party affiliation. Technically, you're able to update your registration up until 8:00 p.m. on Election Day, but earlier is far easier.
Oregon's system is different from other states — the state automatically registers anyone applying for a driver's license, permit, or ID card to vote — which means that voter registration is easy for many state residents. But there are nuances even already-enrolled voters should know.
Checking your voter registration status
The Oregon Secretary of State's office mailed postcards to registered voters earlier this month. If you received such a card, you'll see that it lists your party affiliation and the address your ballot will be sent to. If that information is all correct, you're good to go (though we'll discuss party affiliation a bit more below).
If you didn't receive a card, but you're pretty confident you're already registered, you'll need to check that you're registered through the Secretary of State's website. The site needs your first and last name, as well as your birthdate, to look up your registration. Assuming you've registered to vote in the past, the website should provide your party affiliation and address. You'll be able to update all of your voter registration information through the website, including your name. And yes, this means that if you have the name and birthdate of someone you're confident is an Oregon voter, you can punch in their information and get their home address (as well as change their registration information). It's not a secure system. It's not really intended to be secure, though: Voter registrations are public information. In fact, you can buy the entire list of registered voters in the state from the Oregon Secretary of State's office for just $500.
The website may also list a voter as "inactive," for reasons ranging from changing your address with the U.S. Post Office to being incarcerated. To return to active status, update your voter registration online or with your local county elections office.
The Secretary of State's website might not return your voter registration information even if you're registered to vote for a variety of reasons:
The voter registration system refreshes data starting at 5:25 p.m. every day and can have errors during its refresh window. The maintenance window lasts roughly ten minutes. Searching again after 5:35 p.m. may return better results.
Your name may have changed since you registered to vote. If you may have registered under another name, check if your registration is still under any previous names.
Your name may have been incorrectly entered in the system. In that case, you'll want to contact your county election office to correct the error.
If you have completed the process to request your address not be included on voter rolls due to personal safety concerns, your registration details won't show up on the Secretary of State's website.
Otherwise, you may not be registered to vote in Oregon. You can fix that in minutes if you're eligible to register to vote online.
Registering to vote in Oregon, including special circumstances
Voter registration qualifications in Oregon are straight-forward:
Voters must be residents of Oregon, determined by being able to receive mail in the state.
Voters must be U.S. citizens
Voters must be at least 16 years of age to register. People under the age of 18 will not receive ballots for elections before their 18th birthday, but can still register.
There may be adjustments to that citizenship requirement in the future, as well: one of the possible changes under discussion by the Portland City Charter Review Commission includes extending voting rights to all Portland residents, regardless of citizenship.
For many prospective voters, registering to vote in Oregon can be as simple as filling out a form on the Secretary of State's website. You'll need to provide your Oregon driver's license, permit, or ID card number issued by the Oregon Driver and Motor Vehicle Services Division. The website is available in English, Spanish, Vietnamese, and three other languages.
Registering without state-issued identification
But many people don't have state-issued drivers' licenses or identification cards. Not only do you have to present original or certified copies of your birth certificate or other identity documents, but you also have to present proof of your address and pay a minimum of $44.50. Lacking a state-issued form of identification doesn't officially prevent people from registering to vote in Oregon, but it does make the process harder.
You'll need to register by submitting a paper form to your county elections office or in person at your county elections office. That form, known as the SEL 500, can be submitted with your Social Security number or a document that shows both your legal name and your address (such as a utility bill or a government document).
During the Oregon legislative session in February, the legislature passed HB 4133. That bill will allow voters without a state-issued ID to register online by providing the last four digits of their Social Security number and an image of their signatures. However, that change has not yet been implemented.
Registering while traveling or without a fixed address
The Secretary of State's office provides options for voters who may not be physically present in Oregon during an election. People who are traveling temporarily or are students in another state must fill out an Oregon absentee ballot request, also known as a SEL 111 form. The SEL 111 is also used for voters who are displaced due to natural disasters. Oregon voters who are in the military or are temporarily living overseas must request their absentee ballots through the Federal Voting Assistance Program.
But what about folks without stable housing? You don't need to have a permanent address to vote. You can provide a 'residence' address, which can be any location where you can regularly be found, from a campsite to a service provider you rely on, and list your local county clerk's office as your mailing address. Then, when ballots are available, you can pick up your ballot at the elections office.
Of course, this process is more complicated than just going to a website. Systems requiring permanent addresses disenfranchise a growing group of voters, especially in the Portland metro area. Many local support service providers try to simplify the process as much as possible for voters without access to housing. HB 4133 is a step in the right direction, but there's more to be done to make voting actually accessible to everyone.
Reducing risk while registering
For those voters who face risks by listing their home addresses in the public record, you can request your information be removed. You can apply for an exemption from voter registration disclosure requirements by completing a SEL 550 form and submitting it to your local county elections office. The form requires you to describe your safety concerns and requests copies of records as proof. Despite that request, you don't actually need to include any records.
When applying to remove my own information from the system due to personal safety concerns in 2017, I contacted the Multnomah County Elections Office for clarification. I then submitted my completed SEL 550 form with no attached records. It was approved and I received a letter to that effect a few weeks later. However, since each county elections office has a certain level of independence, always double check if your county's requirements differ in any way. Unfortunately, you must register to vote (and therefore have your information in the system) before you can apply to have your information returned. If, for instance, you register online and mail in your SEL 550 form, there may be a week or two where your address is available online. Dropping off both your registration and application forms directly to the county elections office may speed the process up. People who are already enrolled in Oregon's Address Confidentiality Program may use their ACP address to vote and will be handled differently by automatic registration systems at the DMV.
Where to get help
For any questions about the voter registration process in the State of Oregon, there are a variety of options for help:
Emailing, calling, or visiting your county elections office

Multnomah County

503-988-8683
TTY Relay: 1-800-735-2900
1040 SE Morrison St. Portland, OR 97214

Washington County

503-846-5800
2925 NE Aloclek Drive, Suite: 170, Hillsboro, OR 97124-7523

Clackamas County

503-655-8510
1710 Red Soils Court, Suite 100 Oregon City, OR 97045

Emailing or calling the state elections office

866-673-8683 (toll free)
TTY 800-735-2900

Calling Election Protection (a non-partisan group working on voter access)

866-687-8683 (English; can also accept texts)
888-839-8682 (Spanish and English)
888-274-8683 (Asian languages and English
844-925-5287 (Arabic and English)
Party affiliation matters in closed primaries
While the value of a two-party system is debatable, both the Democratic and Republican parties play out-sized roles in politics. Primary elections in Oregon show their control: Because both parties have closed primaries, unaffiliated voters and those belonging to smaller parties only vote on non-partisan issues during the primary election. There are six additional recognized political parties in the state, some of which hold nominating conventions to select candidates and others which endorse candidates (who may run as Democrats or Republicans).
Since unaffiliated voters are officially the largest bloc in Oregon, with well over a million voters in the state, over a third of voters won't have a say in which candidates go to the November ballot. Despite the focus on this year's gubernatorial race, more than a third of Oregon voters won't be eligible to vote in the gubernatorial primaries. The high number of unaffiliated voters here is due to Oregon's automatic voter registration system tied to the DMV, because voters registered through the system aren't automatically assigned to a party.
There is an on-going effort to open Oregon primaries, with a campaign underway to put a measure on the November ballot. However, that campaign has minimal funds on hand and has received little media attention. Open primaries are also not the only options for reforming the primary system: some ranked-choice voting methods eliminate primaries altogether, while some states (including California and Oregon) have merged all party primaries into one massive primary, with the top two recipients of votes competing in the general election.
Voting is a right, not a privilege
Being able to participate in the governance of the area in which you live is a right. It's recognized in the Universal Declaration of Human Rights. Despite this reality, thousands of Portland residents will be unable to vote in the upcoming primary. Any hope of creating a fair and equitable system through voting requires ensuring everyone has a chance to participate equally.
We're not there. It's hard to even imagine that world right now. Maybe it's not possible.
Until we get there, many people will choose not to vote. If you make the choice to not vote, it's understandable (and in line with a long history of activism). If you choose to vote, it's also understandable, but please avoid pressuring others who don't take the same path. Describing voting as 'harm reduction' or a necessary step to critique the system are just techniques to elevate voting over forms of activism that are more accessible to everyone, rather than those the current government empowers. Whether or not you plan to vote, we live under a government that elects officials which has a lot of support. We all have a responsibility to make sure that everyone has the option to vote — not voting should be a choice, rather than a question of eligibility. If you get the urge to persuade someone to vote, consider refocusing that energy on expanding voting access instead.